Find the paging solution to support your critical communication goals
Our paging solutions offer a broad range of services to help you meet your organization's communication goals.
Encrypted pagers
GenA™ and T5 encrypted pagers
The GenA, and the T5 pagers are among only a few wireless pagers now available offering encrypted paging. The GenA pager keeps your organization connected with reliable messaging in a small, convenient device featuring an estimated month-long battery life and an easy-to-read ePaper screen. It is a trusted addition to a communication portfolio with the advanced encryption and display lock security features helping ensure your organization meets security requirements. The T5 features secure messaging and display lock security features, and is a powerful tool for healthcare and emergency response communication.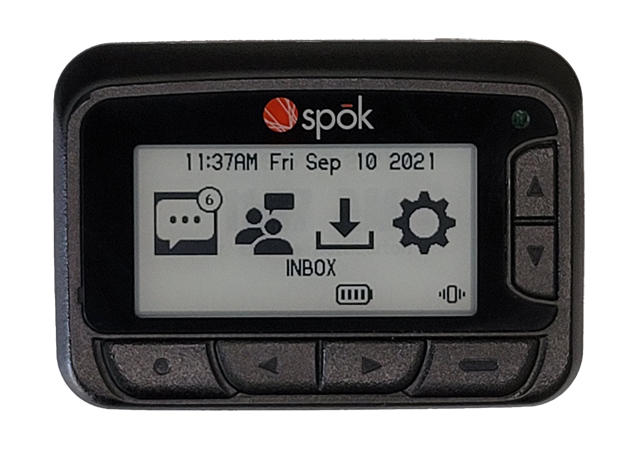 Premium pager GenA™
Exclusively through Spok
Large, high contrast ePaper display
Four text sizes with proportional font
Modern user interface
Always on clock display
Programmable screen name
Up to 99 personal message slots
Expanded group message features
Advanced encryption & security features
Antimicrobial case
Over-the-air remote programming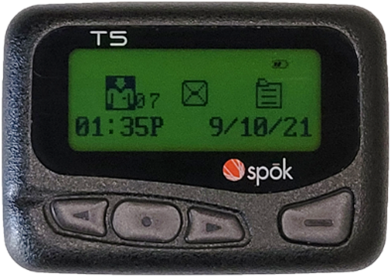 Standard pager T5
Exclusively through Spok
Four lines of LCD display (with zoom to 2 lines)
20 personal message slots
Encrypted message support
Display lock
Remote data wipe
Use encrypted paging for security and compliance
Each of our encrypted pagers is programmed with a unique key. Messages are encrypted using the industry standard AES-128 encryption algorithm and decrypted to display to the user.
Other messaging services
Receive text messages, emails, and alerts on your paging device with one-way alpha messaging pagers.
Use numeric messaging as a reliable, affordable, and easy-to-use communication option. Callers simply input a call-back number and hang up.
Sun Telecom ST800 plus™
Time and date stamping
30-message memory
Locks up to 14 messages
Eight user-selectable alerts
Daviscomms BR502™
Scratch-resistant lens
Time & date display
One line of 12 characters plus one line of icons
Up to eight cap codes
Up to 18 personal memory slots
Eight user-selectable alerts
Use a display lock for added security
Encrypted pagers are equipped with a display lock feature that requires users to enter a passcode. After five minutes of inactivity, the pager activates the display lock. The user must enter the correct passcode to access the device and read messages.
Lost or stolen device? No security problem.
If one of your pagers is lost or stolen, we can remotely delete all messages and encryption keys from the device. If a user forgets the display lock code, we can also help by clearing the device to allow the user to re-enable a code.
Get more information about paging services
Want to learn more about our paging services? We can help you determine what solutions will best meet your organization's communication goals.